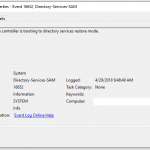 Running Veeam Backup and Replication, a Microsoft Windows Server Domain Controller may boot in to safe mode and directory services restore mode.
About a week ago, I loaded up Veeam Backup and Replication in to my test environment. It's a fantastic product, and it's working great, however today I had a little bit of an issue with a DC running Windows Server 2016 Server Core.
I woke up to a notification that the backup failed due to a VSS snapshot issue. Now I know that VSS can be a little picky at times, so I decided to restart the guest VM. Upon restarting, she came back up, was pingable, and appeared to be running fine, however the backup kept failing with new errors, the event log was looking very strange on the server, and numerous services that were set to automatic were not starting up.
This specific server was installed using Server Core mode, so it has no GUI and is administered via command prompt over RDP, or via remote management utilities. Once RDP'ing in to the server, I noticed the "Safe Mode" branding on each corner of the display, this was very odd. I restarted the server again, this time manually trying to start Active Directory Services manually via services.msc.
This presented:
Event ID: 16652
Source: Directory-Services-SAM
General Description: The domain controller is booting to directory services restore mode.
Screenshot:
This surprised me (and scared me for that matter). I immediately started searching the internet to find out what would have caused this…
To my relief, I read numerous sites that advise that when an active backup is running on a guest VM which is a domain controller, Veeam activates directory services restore mode temporarily, so in the event of a restore, it will boot to this mode automatically. In my case, the switch was not changed back during the backup failure.
Running the following command in a command prompt, verifies that the safeboot switch is set to dsrepair enabled:
bcdedit /v
To disable directory services restore mode, type the following in a command prompt:
bcdedit /deletevalue safeboot
Restart the server and the issue should be resolved!