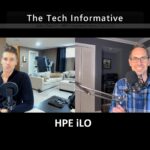 A new Side Chat Episode of the Tech Informative is now live on YouTube. In this episode we are covering HPE Integrated Lights-Out, also known as HPE iLO.
The Tech Informative is a video podcast by Stephen Wagner and Rob Dalton that hopes to explore everyday technologies from the perspective of Information Technology professionals.
Rob Dalton is a lover of IT and a Director by profession. Rob considers himself a jack of all trades, an IT veteran, and is also the author of "Secured Packets", a technology blog with a focus on security. Rob's blog can be found at: https://www.securedpackets.com
Stephen Wagner is the President of Digitally Accurate Inc., an IT Solutions and Managed Services company. Stephen is also the author of "The Tech Journal", an online Technology Blog. Stephen's blog can be found at: https://www.stephenwagner.com
In this Side Chat, we cover the following:
What is HPE iLO
iLO and OneView
iLO Amplifier Pack
iLO, InfoSight, and HPE Servers
What does iLO do
Remote Access
Firmware Management
Server provisioning (Install OS, Recover, DR, etc.)
Features we find most valuable
How is HPE Integrated Lights-Out licensed
Competing Products
We also cover what's on the next episode of The Tech Informative
Don't forget to like and subscribe! Leave a comment, feedback, or suggestions in the video comments section.