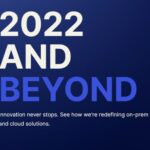 As I'm watching the Synology: 2022 AND BEYOND event live I wanted to write this post to share with you some of my favorite parts.
For those of you wanting to tune in (while live) or watch the replay you can view it below.
You can also visit: https://event.synology.com/en-us/annual_event to watch the stream (or replay) and find out more information.
DSM 7.0.1 and DSM 7.1
As an IT professional and enthusiast, here's a list of some of my favorite new features, functionalities and improvements.
DSM 7.0.1
High Availability Improvements

40% less time needed for failovers and switchovers
80% less time needed for system updates

System Responsiveness and Performance enhancements

56x faster SMB (Windows File Share) searches
70% speed up in application launches
80% faster RAID 6 performance (for double parity RAID)

Enhanced Drive Replacement

Replace predicted failure/presumed unhealthy/to-be-retired drives with unused healthy drives that are in other bays.
Switch without degrading your array/storage pool

Auto Drive Replacement

Clones predicted failure/presumed unhealthy drive to available hot spare, switching automatically when the drive fails without requiring RAID rebuild time

Volume-wide data deduplication (on all flash arrays)

Scheduled or Manual Volume Wide Deduplication on all flash volumes
Click here for information on supported models and configurations

Synology Directory Server

Secondary domain controllers provide additional redundancy and availability of directory services
Provides ability to deploy additional domain controllers at additional locations
DSM 7.1 (Coming Soon)
SMB Multichannel

Utilize multiple network links and network connections to combine speed with SMB (Windows File Share) file transfers
Provides redundancy and fault tolerance

DFS Support over SMB

Combine multiple Synology NAS file servers to provide file services to your network using Distributed File System (DFS)

Active Insight

Numerous updates to make Active Insight more powerful when it comes to managing numerous Synology NAS units.
Enhanced control and information on System Updates
Suspicious activity detection recognizes suspicious activity on the NAS units (example: unusual login times and locations, unused accounts being used after being idle, failed logins, etc).
Task monitoring for Hyper Backup

Synology Directory

Read-only domain controller support provides ability to deploy read only domain controllers at remote sites that may not be physically secure while providing local cached copies of the directory.
And that's not all…
Synology has also made numerous improvements to their Data Protection Services, Surveillance suite, Wireless Networking, Synology C2 Cloud, and more, but you'll have to check it out for yourself. There are tons of other goodies for office workers, small business owners, photography enthusiast, and more that I haven't included in this list.