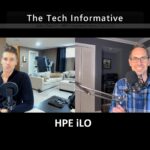 A new Side Chat Episode of the Tech Informative is now live on YouTube. In this episode we are covering HPE Integrated Lights-Out, also known as HPE iLO.
In this Side Chat, we cover the following:
What is HPE iLO
iLO and OneView
iLO Amplifier Pack
iLO, InfoSight, and HPE Servers
What does iLO do
Remote Access
Firmware Management
Server provisioning (Install OS, Recover, DR, etc.)
Features we find most valuable
How is HPE Integrated Lights-Out licensed
Competing Products
We also cover what's on the next episode of The Tech Informative
Don't forget to like and subscribe! Leave a comment, feedback, or suggestions in the video comments section.