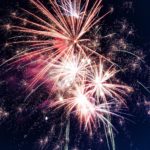 Happy New Year to all my blog readers, regular and/or one-time! Wishing you and your family all the best, success, and prosperity in 2020!
Finishing up in 2019, I'm averaging over 115,000 unique views per month on this technology blog thanks to you all. I'm hoping to create some new exciting, educational, and helpful content for 2020.
If you'd like to see anything, have a technology product you'd like reviewed, or have any questions, drop a comment or open up a chat! I love getting in touch with readers!
Cheers!