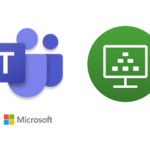 Well, it's official, according to the release notes for VMware Horizon 2106, VMware now supports Media Optimization for Microsoft Teams on the VMware Horizon Linux Client.
This is great news for zero clients, as most VDI Zero Clients are based of embedded Linux. As soon as major vendors update their firmware to the latest VMware Horizon Client, we should start seeing Microsoft Teams Optimization on VDI Zero Clients.
To support this, you'll need to have the proper configuration implemented. Make sure you check out my guide on Microsoft Teams VDI Optimization for VMware Horizon.
For the full release notes, click here.