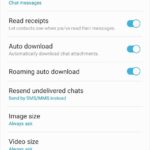 This morning I had two surprises, the first being the not-so monthly security update, and the second being that the Samsung Galaxy S9+ messaging app showed a notification about turning on RCS (Rich Communication Services) messaging.
So as of today, RCS messaging is officially enabled on Samsung Galaxy S9+ phones on Rogers in Canada. Please note that this option did NOT appear on other Samsung S8/S8+ phones on my corporate account, and only the S9+.
This function has also probably been enabled on newer Samsung Galaxy devices as well. Please leave a comment if you can confirm.
Turning on RCS
To turn on RCS, open the messaging app. You'll notice a "notification bubble" on the three-dot menu button.
Click on this, going to "Settings", you'll be able to turn on what Samsung calls "Chat Service". Tap on this, and it will have to register on the network (since RCS is a service provided by your cell network).
RCS Settings
Once you register RCS on the network, a new settings button will appear called "Chat Settings".
Once you go in to "Chat Settings" you'll see the following options, confirming it is RCS.
As of right now I can't really test this, because all the other phones on my corporate account are only S8+ or S8 variants. I also don't know anyone that is currently using RCS, so I'll have to wait to test it out.