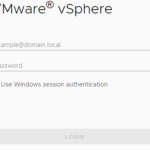 When upgrading from any version of VMware vCSA to version 7.0, you may encounter a problem during the migration phase and be asked to specifiy a new "Export Directory".
I've seen this occur on numerous upgrades and often find the same culprit causing the issue. I've found a very simple fix compared to other solutions online.
The full prompt for this issue is: "Enter a new export directory on the source machine below"
The Problem
When you upgrade the vCenter vCSA, the process migrates all data over from the source appliance, to the new vCSA 7 appliance.
This data can include the following (depending on your selection):
Configuration
Configuration and historical data (events and tasks)
Configuration and historical data (events, tasks, and performance metric)
vSphere Update Manager (updates, configuration, etc.)
This data can accumulate, especially the VMware vSphere Update Manager.
In the most recent upgrade I performed, I noticed that the smallest option (configuration only) was around 8GB, which is way over the 4.7GB default limit.
Could it be vSphere Update Manager?
I've seen VMware VUM cause numerous issues over the years with upgrades. VUM has caused issues upgrading from earlier versions to 6.x, and in this case it caused this issue upgrading to vCSA 7.x as well.
In my diagnosis, I logged in to the SSH console of the source appliance, and noticed that the partitions containing the VUM data (which includes update files) was around 7.4GB. This is the "/storage/updatemgr/" partition.
I wasn't sure if this was included, but the 8GB of configuration, minus the 7.4GB of VUM data, could technically get me to around 0.6GB for migration if this was in fact included.
In my environment, I have the default (and simple) implementation of VUM with the only customization being the HPE VIBs depot. I figured maybe I should blast away the VUM and start from scratch on VMware vCSA 7.0 to see if this fixes the issue.
The Fix
To fix this issue, I simply completely reset the VMware Update Manager Database.
For details on this process and before performing these steps, please see VMware KB 2147284.
Let's get to it:
Close the migration window (you can reopen this later)
Log in to your vCSA source appliance via SSH or console
Run the applicable steps as defined in the VMware KB 2147284 to reset VUM (WARNING: commands are version specific). In my case on vCSA 6.5 I ran the following commands:

shell
service-control --stop vmware-updatemgr
/usr/lib/vmware-updatemgr/bin/updatemgr-util reset-db
rm -rf /storage/updatemgr/patch-store/*
service-control --start vmware-updatemgr

Open your web broswer and navigate to https://new-vcsa-IP:5480 and resume the migration. You will now notice a significant space reduction and won't need to specify a new mount point.
That's it! You have a shiny new clean VUM instance, and can successfully upgrade to vCSA 7.0 without having to specify a new mount point.
To reconfigure and restore any old configuration to VUM, you'll do so in the "VMware Lifecycle Management" section of the VMware vCenter Server Appliance interface.
Alternatively, in the rare event it's not related to the VUM data, you can set the export directory to somewhere in "/tmp/" which is another workaround this issue which may allow you to continue.