Well, it's official. I am now a happy owner of two Raspberry Pi computers.
I'm busy tinkering away but I just wanted to upload some pictures and videos. I will be creating a separate post outlining what I'm hoping to accomplish with these little devices, so stay tuned!
Scroll to the bottom of this post for videos!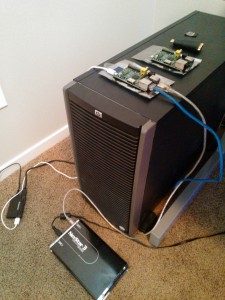 And here is a few videos of the first couple boots:
First Boot (Text Boot Image)

Second Boot (Graphic XFCE Image)