In the process of prepping my test environment so I can upgrade from vSphere 6.1 to 6.5, one of the prerequisites is to first upgrade your VDP appliances to version 6.1.3 (6.1.3 is the only version of VDP that supports vSphere 6.5). In my environment I'll be upgrading VDP from 6.1.2 to 6.1.3.
After downloading the ISO, changing my disks to dependant, creating a snapshot, and attaching the ISO to the VM. My VDP appliances would not recognize the ISO image, showing the dreaded: "To upgrade your VDP appliance, place connect a valid upgrade ISO image to the appliance.".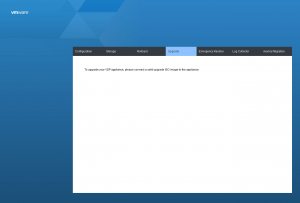 I tried a few things, including trying the old "patch" that was issues for 6.1 when it couldn't detect, unfortunately it didn't help. I also tried to manually mount the virtual CD-Rom to the mountpoint but had no luck. The mountpoint /mnt/auto/cdrom is locked by the autofs service. If you try to modify these files (such as delete, create, etc…), you'll encounter a bunch of errors and have no luck (permission denied, file and/or directory doesn't exist, etc…).
Essentially the autofs service was not auto-mounting the virtual CD drive to the mount point.
To fix this:
SSH in to the VDP appliance
Run command "sudo su" to run commands as root
Use vi to edit the auto.mnt file using command: "vi /etc/auto.mnt"
At the end of the first line in the file, you will see "/dev/cdrom" (without quotation), change this to "/dev/sr0" (again, without quotation)
Save the file (after editing the text, Ctrl+c, then type ":w" and enter which writes the file, then type ":q" then enter to quit vi.
Reload the autofs config using command: "/etc/init.d/autofs reload"
At the shell, run "mount" to show the active mountpoints, you'll notice the ISO is now mounted after a few seconds.
You can now initiate the upgrade. Start it.
At 71%, autofs updates via a RPM, and the changes you made to the config are cleared. IMMEDIATELY edit the /etc/auto.mnt file again, change "/dev/cdrom" to "/dev/sr0" and save the file, and issue the command "/etc/init.d/autofs reload". Do this as fast as possible.
You're good to go, the install will continue and take some time. The web interface will fail, and become unresponsive. Simply wait, and the vDP appliance will eventually shut down (in my case it took over 30 minutes after the web interface failed to reconnect, in a high performance environment for the vDP VM to shut down).
And done! Leave a comment!