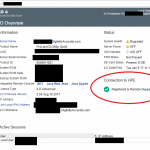 Many months ago, I configured the HPE Insight Online – Direct Connect on all my HPE Proliant DL360p Gen8 servers running VMware vSphere 6.5. This service is available with active support contracts (warranties), and allows your servers to "phone home" to HPE for free. This allows service and health information to be broadcast to your HPE passport and support account, to pro-actively manage, monitor, and maintain your servers. Information on the service can be found at https://www.hpe.com/ca/en/services/remote-it-support.html.
This is all pretty cool, but does it work? Read below!
I woke up this morning to notifications from my own monitoring system that a fan failure had occurred on one of my HPE Proliant server ESXi hosts. All my servers have fan redundancy so the server continued to run without problems. Scrolling through my other overnight e-mails, I also see e-mails from HPE acknowledging a support case that I had created. I had long since forgot that I configured Insight Online direct connect, so it actually took a few minutes for me to put two and two together. The server by itself took care of everything!
After reviewing all these e-mails, logging in to the HPE support portal, I had realized that the server by itself had:
Identified a fan failure
Sent diagnostic data off to HPE support
Created an HPE support ticket and case
HPE support engineers looked up the serial and part number of the server, and assigned a replacement part for the fan to be dispatched to me
I called in to HPE support, mentioned this was the first time this had ever happened and asked if there was anything additional I needed to provide. All the engineer asked, was whether I wanted an engineer to replace the part, or if I was comfortable replacing the part myself (of course I want to replace it myself). That was it!
This is VERY interesting and cool technology. I can see this being extremely valuable for customers who have 4 hour response contracts with their HPE equipment.
I've provided some screenshots below to show the process.