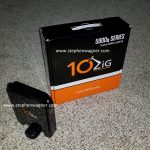 In an effort to truly showcase the capabilities of VMware Horizon View and the 10ZiG 5948q Zero Client, I wanted to put together a demo showing the ability to run Red Hat Enterprise Linux (RHEL 7.4) in a VDI environment.
First and foremost, this was super easy to setup. It was almost too easy…
Please see below for video:
You'll notice during login that after the credential prompt multiple desktops were available (we chose to log on to the RHEL instance) to choose from. You'll see further on in the video versioning and specifications as well as video playback. Again, please note that my environment does not have any GPU or 3D rendering.
Please Note: The momentary black border on the bottom right side during login, was due to a resolution change on the VDI session. This was the first time logging in with this client, and the border doesn't normally occur unless changing resolutions.
Equipment/Software used in this demo:
Please note, my company Digitally Accurate Inc, is a VMware Solution Provider Partner, 10ZiG Partner, and Red Hat Ready Business partner. Please don't hesitate in reaching out for anything VDI! We design, sell, implement, and support VMware and VDI environments!