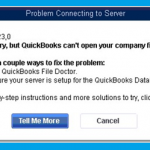 During an upgrade from an extremely old version of QuickBooks to a newer version of QuickBooks, opening the file to upgrade may fail with the following error message:
Error: -6123,0
We're sorry, but QuickBooks can't open your company file.

This specifically occurred with me when I was upgrading from QuickBooks 2008 to Quickbooks 2019 (trial), so I could then migrate my datafile to QuickBooks Online.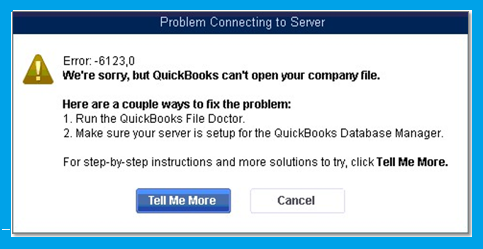 The Problem
During most (if not all) upgrades and updates, Intuit makes changes to the datafile format for new features, optimizations, or bug fixes. Sometimes these changes can actually be very drastic and intensive, especially if you have a large datafile. Keep in mind that forms and templates may also require upgrades or changes.
When jumping multiple versions, all of these changes must occur in a single swipe.
To make this problem even worse, I believe that there are major (massive, larger than usual) changes done every few upgrades.
Troubleshooting
To troubleshoot this problem, I followed all of QuickBooks documentation on the process but didn't have any luck. I tried:
Upgrading the datafile directly
Removing it off the network and upgrading directly
Creating a backup using the older version, and restoring with the newer version
Using the "Restore older version from backup" feature in "Utilities"
All of these had no effect.
Solution
I finally came across an article that talked about restoring backups and upgrade issues, and as a last attempt recommended creating a portable file on the old version and restoring it to the new version.
Keep in mind that customization will be lost, such as Invoice formats, templates, and other things.
I went ahead and tried this, and to my surprise it worked. I was able to upgrade from QuickBooks 2008 to QuickBooks 2019, and was then able to export and import the datafile in to QuickBooks online.
My 2008 datafile was ~48MB, and took around an hour to convert (I was actually surprised at first, but realized I was performing 11 versions of upgrades to the file).
As always you should confirm that the data is valid. I compared my chart of accounts, profit and loss statements, and trial balance reports, from the old to the new, and all looked good!