We all love speed, whether it's our internet connection or our home network. And as our internet speeds approach gigabits per second, it's about time our networks hit 10Gb per second…
High speed networking, particularly 10Gig network is becoming more cost-effective day by day, and with vendors releasing affordable switches, there hasn't been a better time to upgrade.
Today we're going 10Gig with the Ubiquiti UniFi US-16-XG switch.
I'll be discussing my configuration and setup, why you should use this switch for your homelab and/or business, as well as providing a review on the equipment.
Make sure you check out the video below and read the entire post!
Let's get to it!
The back story
Just like the backstory with my original Ubiquiti UniFi Review, I wanted to optimize my network, increase speeds, and remove bottlenecks.
Most of my servers have 10Gig network adapters (through 10GbaseT or SFP+ ports), and I wanted to upgrade my other servers. I always wanted the ability to add more uplinks to allow a single host/server to have redundant connections to my network.
Up until now, I had 2 hosts connected via my Ubiquiti UniFi US-48 switch via the SFP+ ports with a SFP+ to 10GbaseT module. Using both of the 10Gig ports disallows anymore 10Gig devices being connected. Also, the converter module adds latency.
The goal
Ultimately I wanted to implement a solution that included a new 10Gb network switch acting as a backbone for the network, with connections to my servers, storage, 10Gig devices, and secondary 1Gb switches.
While not needed, it would be nice to have access to both SFP+ connections, as well as 10GbaseT as I have devices that use both.
At the same time, I wanted something that would be easy to manage, affordable, and compatible with equipment from other vendors.
I chose the Ubiquiti UniFi US-16-XG Switch for the task, along with an assortment of cables.
Ubiquiti UniFi US-16-XG Switch
After already being extremely please with the Ubiquiti UniFi product line, I was happy to purchase a unit for internal use, as my company sells Ubiquiti products.
Receiving the product, I was very impressed with the packaging and shipping.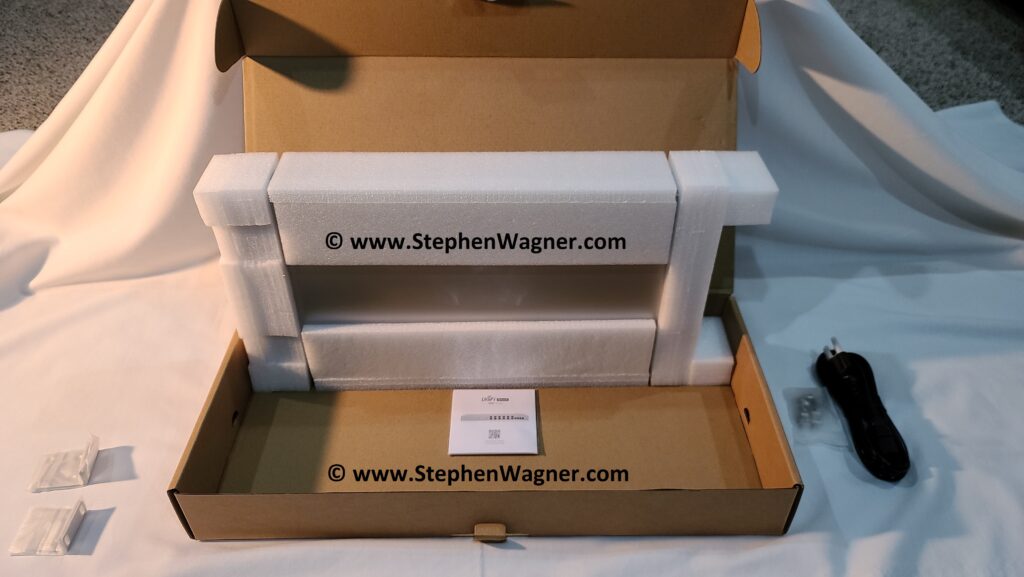 And here I present the Ubiquiti UniFi 16 XG Switch…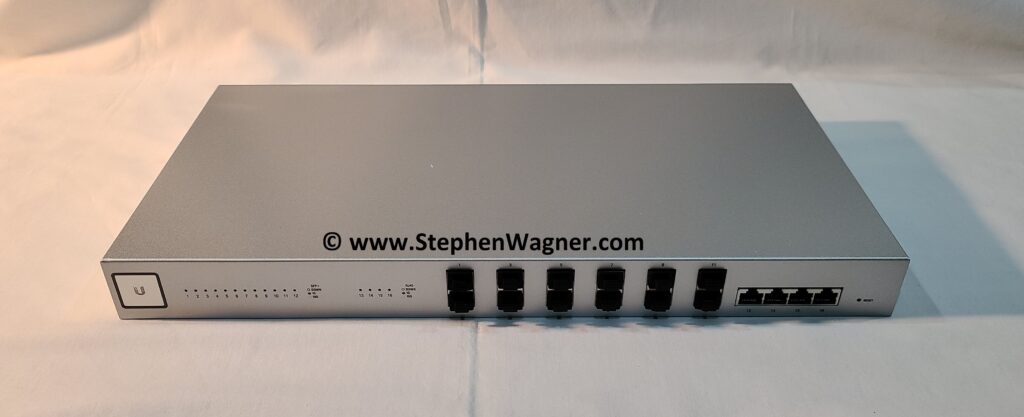 You'll notice the trademark UniFi product design. On the front, the UniFi 16 XG switch has 12 x 10Gb SFP+ ports, along with 4 x 10GbaseT ports. All ports can be used at the same time as none are shared.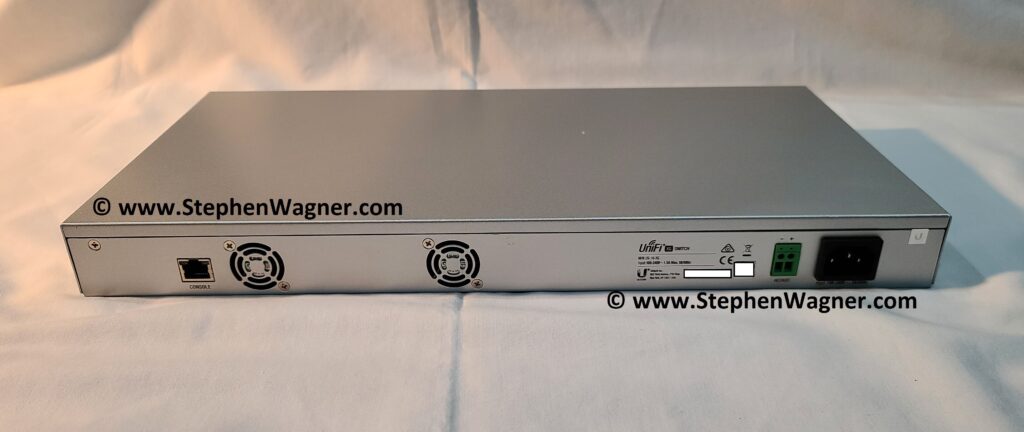 The backside of the switch has a console port, along with 2 fans, DC power input, and the AC power.
Overall, it's a good looking unit. It has even better looking specs…
Specs
The UniFi 16 XG switch specifications:
12 x 10Gb SFP+ Ports
4 x 10GbaseT Ports
160 Gbps Total Non-Blocking Line Rate
1U Form Factor
Layer 2 Switching
Fully Managed via UniFi Controller
The SFP+ ports allow you to use a DAC (Direct Attach Cable) for connectivity, or fiber modules. You can also populate them with converters, such as the Ubiquiti 10GBASE-T SFP+ CopperModule.
You can also attach 4 devices to the 10GbaseT ports.
UDC-3 "FiberCable" DAC
I also purchased 2 x Ubiquiti UDC-3 SFP+ DAC cables. These cables provide connectivity between 2 devices with DAC ports. These can be purchased in lengths of 1 meter, 2 meter, and 3 meters with the part numbers of UDC-1, UDC-2, and UDC-3 respectively.
10Gtek Cable DAC
To test compatibility and have cables from other vendors (in case of any future issues), I also purchased an assortment of 10Gtek SFP+ DAC cables. I specifically chose these as I wanted to have a couple of half meter cables to connect the switches with an aggregated LAG.
UniFi Controller Adoption
To get quickly up and running, I setup the US-16-XG on my workbench, plugged in a network cable in to one of the 10GbaseT ports, and powered it on.
Boot-up was quick and it appeared in the UniFi Controller immediately. It required a firmware update before being able to adopt it to the controller.
After a quick firmware update, I was able to adopt and configure the switch.
The device had a "Test date" of March 2020 on the box, and the UniFi controller reported it as a hardware revision 13.
Configuration and Setup
Implementing, configuration, and setup will be an ongoing process over the next few weeks as I add more storage, servers, and devices to the switch.
The main priority was to test cable compatibility, connect the US-16-XG to my US-48, test throughput, and put my servers directly on the new switch.
I decided to just go ahead and start hooking it up. I decided to do this live without shutting anything down. I went ahead and perfomed the following:
Put the US-16-XG on top of the US-48
Disconnect servers from SFP+ CopperModules on US-48 switch
Plug servers in to 10GbaseT ports on US-16-XG
Remove SFP+ to 10GbaseT CopperModule from US-48 SFP+ ports
Connect both switches with a SFP+ DAC cable
Performing these steps only took a few seconds and everything was up and running. One particular thing I'd like to note is that the port auto-negotiation time on the US-16-XG was extremely quick.
Taking a look at the UniFi Controller view of the US-16-XG, we see the following.
Everything is looking good! Ports auto-detected the correct speed, traffic was being passed, and all is good.
After running like this for a few days, I went ahead and tested the 10Gtek cables which worked perfectly.
To increase redundancy and throughput, I used 2 x 0.5-Meter 10Gtek SFP+ DAC cables and configured an aggregated LAG between the two switches which has also been working perfectly!
In the coming weeks I will be connecting more servers as well as my SAN, so keep checking back for updated posts.
Overall Review
This is a great switch at an amazing price-point to take your business network or homelab network to 10Gig speeds. I highly recommend it!
Use Cases:
Small network 10Gig switch
10Gig backbone for numerous other switches
SAN switch for small SAN network
What I liked the most:
10Gig speeds
Easy setup as always with all the UniFi equipment
Beautiful management interface via the UniFi Controller
Near silent running
Ability to use both SFP+ and 10GbaseT
Compatibility with SFP+ DAC Cables
What could be improved:
Redundant power supplies
Option for more ports
Bug with mobile app showing 10Mbps manual speed for 10Gig ports
Additional Resources and Blog Posts:
Manufacturer Product Links