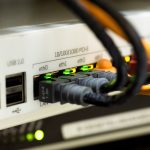 In the many years I've been providing IT Services, I've noticed that whenever taking over a customer from a competitor, or providing consulting services for a company that has IT staff, that I don't see DHCP reservations being used all that frequently.
I wanted to write a post and create a video to discuss the comparison, when each should be used and the various case scenarios. I'm hoping my readers may provide their own input in the comments.
See below for the video, or read on for the blog post!
As an example: When a customer was purchasing a VoIP PBX, the PBX vendor get angry when I requested that it be configured for DHCP so that a DHCP reservation could be used, I advised I'd prefer this method so I could change the IP when needed for maintenance or network restructuring. They tried to convince me the IP will change on a DHCP Server and the port forwarding will stop working, because they simply had no idea of what a DHCP reservation was. Ultimately when the day came where I had to change the IP and firewall rules for the PBX, I had to log a support call with the vendor since I couldn't change the IP myself (which resulted in delays, and costs). If we were using DHCP reservations, I could have simply modified the firewall rules, modified the IP address on the reservation, and restarted the device using the buttons on the front panel (I didn't have any other access to the device).
Just to state the obvious:
A static IP address is an IP address that's manually set on a NIC (Network Interface Card).
A DHCP Reservation is a pre-set IP that's provided by a DHCP Server, and given to a NIC when a NIC calls out to a DHCP server for an IP address.
Static IP Addresses
It's in my opinion that for server, network, core, and all top level infrastructure, all of these devices and services should be configured with Static IP addresses.
These devices which are almost always running, and have other services that rely on them, require a set static IP that should and will not change. Typically, these IP addresses will never change, even when major changes are being made to the core infrastructure.
These addresses should always be logged, documented, and added to network topology maps.
An example of devices commonly seen with Static IPS:
Servers
Storage (SAN, NAS)
Network Switches, Routers, Gateways, Load Balancers
Printers
Wireless Access Points
Computers/Workstations using special services (or requiring firewall exceptions)
DHCP Reservations
DHCP stands for Dynamic Host Configuration Protocol, and was created to dynamically configure hosts networking configuration on the fly for easy deployment.
In it's most simplest explanation, when a computer (or device) that is configured to use DHCP reaches out to the network, the DHCP server will assign and provide an IP address for the computer to use.
In home networks, pretty much every computer and device will get it's IP address from the DHCP server running on the router.
In business networks, pretty much every computer and device that isn't hosting services will get it's IP address from the DHCP server running on one of their servers or routers.
DHCP Servers support something called a "DHCP Reservation", which essentially allows you to provide a pre-set IP address to a specific client based on it's physical MAC address. This means that the device will always get the same IP address and it will never change (whereas they typically do on occasion).
I'm surprised I don't see these used more often, as they can become quite the powerful tool on the IT tool belt when used properly. I've listed some pros and cons below.
The Pros:
Manage IP addresses (IP reservations) from a single console
Ability to change IP addresses on the fly easily from a single console without having to log in to the device.
Manage network topology for ROBO (Remote Office, Branch Office) remotely, easily, and efficiently.
Manage IP addresses for 3rd party devices that you don't normally have access to modify (tell the vendor to set to DHCP), reducing support calls for external services.
Ability to create different PXE boot environments as each reservation can have it's own PXE boot options assigned.
The Cons:
Device must support DHCP Configuration.
The device MUST RELY on a DHCP Server once set to use DHCP. If the DHCP Server is down, so is the device.
If rogue DHCP servers appear on your network, it may disrupt communication (this can also happen with static IPs and conflicts).
So with the list above, DHCP reservations look pretty powerful. The next question, is where do we use DHCP reservations. Let's finish off with the devices we'd use them on, and what use case scenarios apply.
Devices:
Wireless Access Points
Printers
2nd Level (non core) Routers and Gateways
IoT Devices
IP Phones
IP PBX Systems (VoIP, Traditional with IP Management, etc).
Thin Clients and Zero Clients
Use Cases:
Remote Offices (remote sites with limited access)
Remote Support environments
Branch Offices
IP Phone Networks
Wireless LAN Access Point VLANs
DHCP Reservation Use Cases
I use DHCP reservations frequently with customers that have remote or branch offices in remote geographical areas. When supporting these users and troubleshooting issues, it's awesome to be able to just log in to the DHCP server to change IP addresses of printers, phones, and wireless access points.
Also, when configuring, shipping, and deploying new devices to these offices, I can simply log and write down the MAC address, configure the DHCP reservation, and the device will get the IP address I've chosen once it's connected to the network and powered on.
Using DHCP reservations, you can easily make big changes to these remote networks without having to be present. If you were to use Static IPs and something was misconfigured, this might cause a physical visit to the site to resolve.
If by change a vendor directly dropships equipment to the remote site, I can simply call someone at that office to get the MAC address. Most devices with a NIC (printers, MFPs, wireless access points), all usually have their MAC addresses printed on the outside of the box. With this information provided, I can login to the remote server, create a DHCP reservation, configure drivers, and push the device config out to the network.
DHCP reservations add to the whole concept of a centrally managed environment, which further helps ease of maintaining, and supporting it.
Leave a comment and let me know your thoughts!