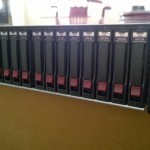 You may encounter a situation where you're unable to connect to the management interface or NIC on your HPE MSA array. When this condition occurs, you are not able to ping the NIC, and the SMU (web interface) will not load.
When you visibly look at the array, the AMBER warning light may or may not be flashing.
If you have a dual controller setup, and connect to the SMU on the other controller, you may see numerous log entries where the management NIC port status changes repeatedly from up to down.
What's happening
I've witnessed this issue occur on 2 separate HPE MSA 2040 storage arrays (both with dual controllers).
When you physically look at the management NICs on the controller in question, you'll notice that the port status LED indicator turns on, and turns off repeatedly. The link status keeps changing from up to down (as reflected in the logs).
The Fix
Restarting the unit will have no effect. Changing the network cable will have no effect.
To resolve this issue, you must play with the network cable and re-seat it a few times (possibly half-way if possible a couple times as sketchy as that sounds).
If you can get the link status up, and disconnect/reconnect the cable before the light turns off, the connection will stay up. It will continue to function and survive restarts until sometime in the future when you disconnect it and reconnect it.
Replacing the controller may also fix it, however in the first instance I observed this, the replacement controller exhibited the same behavior months later in the future.